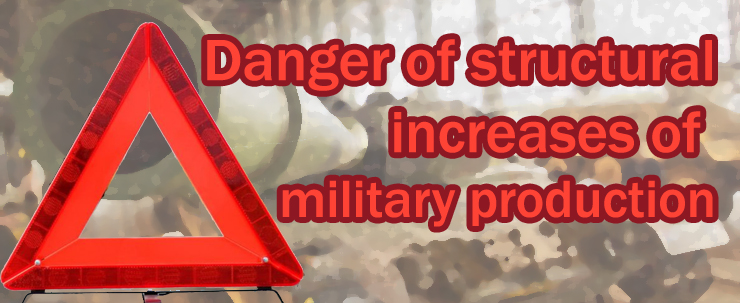 "US would likely run out of some munitions such as long-range, precision-guided munitions in less than one week in a Taiwan Strait conflict. War in Ukraine has also exposed serious deficiencies in the US defense industrial base."
With this introduction the report 'Empty bins in a wartime environment; the Challenge to the U.S. Defense Industrial Base' by Seth G. Jones of the CSIS think tank on military affairs was launched. It added to the strong language here and there on the need for a stronger defence industry. In clear wording it formulates the demands by the Military Industrial Scientific Complex (MISC) for more support both organisational and resource wise, although the gigantic US military budget is already larger than China, EU and big spenders Saudi Arabia and India combined*.

Two major wars
While supporting a major war on the European continent, the US (and NATO) looks also towards China, which threatens Taiwan** as well as Washington's global economic domination, and in the longer run might endanger the USA's geopolitical position. In the CSIS report it is pointed out that the current war in Ukraine is also fought to show China that aggression comes with "costs and risks". Echoing a policy of the past, the report states that the US must be able to fight at least one major war, better two. You get the impression the report is inspired by the Churchillian adagium 'Never waste a good crisis'. The Ukraine crisis is used to increase arms production and break down arms controls.

Despite the hundreds of billions of dollars US military budget the CSIS report points at shortages of several types of projectiles, like 155mm grenades. Ukraine uses thousands of 155mm grenades every day. Washington has send the country already one million of this ammunition and has increased its production with 625% from 14,400 to 90,000 shells a month. Recently France and Australia announced to create a common 155mm shells production line especially for Ukraine.

Offensive strategy towards China
A war in the Pacific might be even more demanding than the Ukraine war, because of geographical differences between the Ukraine and Taiwan. While Ukraine shares an open border with Western Europe, Taiwan is an island and hard to supply. The US would run out of long-range precision-guided munitions in a week when in military operation against China in support of Taiwan. Part of the military efforts in the Pacific is major industrial power Japan, which is strengthening its domestic defence industry and arms export market. In case of a war in the Pacific the US (and Japan) would focus on a strategy to overcome the Chinese defence, a strategy called A2/AD (anti-access/areal denial) which would enable them to fight on Chinese territory. The high cost this would bring for Beijing should then destabilize CCP rule. It is an offensive strategy as well as an expensive one, defence is less demanding than the employment of offensive military technology, weapons and troops. With such a policy the demand on the defence budget will have no limits.
Long term fixed arms contracts
The industry wants guarantees for steady government investments to keep business healthy. That means long term, fixed contracts, building stockpiles, and less red tape. Export regimes such as Foreign Military Sales (FMS) and International Traffic in Arms Regulations (ITAR) must be more nimble (as if the industry has anything to complain; US arms exports soared 49.1 % to nearly $205.6 billion in 2022). According to the military industry, the emergency wartime situation must be used to streamline production, acquisitions, replenishment and other policies and procedures, including structural change for the years or even decades to come. Well informed observant William Hartung noted recently: "inflating the size of the defence-industrial base in anticipation of a future conflict with China would lead to a permanent expansion, since, for example, local politicians will argue to protect the jobs at new weapons factories." Author Miriam Pemberton in her recent book 'Six Stops on the National Security Tour; rethinking warfare economics' shows how hard it is to bent the military industrial complex back to normal once it is at wartime high.

Back to Europe
Europe is not the US. But rising military budgets are not limited to Washington alone. The Stockholm International Peace Research Institute (SIPRI) recently published a report on how to pay for increased military expenditure. The report gives three possibilities: tax, loans or revenue from the sale of natural resources, eventually all at the cost of civil expenditure. European military industries are putting pressure on the financial sector to include military industries into sustainable investment funds. Europe is also creating new production lines such as German Rheinmetall's new plant in Hungary. Restructuring and militarisation takes place on national and European level. Arms export policies, hard-won over half a century, are under pressure even in Germany. In the Netherlands the arms industry lobby organisation NIDV aims to increase the export share of Dutch arms production (at present 55%) with an appeal on the present security climate. But if we create a war industry, how do we get rid of it when the war is over?

The sooner the Ukraine war will end the better. Diplomatic steps are a better road to peace that expanding the arms industry. It is too easy to give in to the demands of the military industrial complex. As UN boss Guterres said: "I fear the world is not sleepwalking into a wider war. I fear it is doing so with its eyes wide open. But the world needs peace and peace in line with the United Nations Charter and international law. We must work harder for peace everywhere."

Notes:
* Often Russia is added to this comparison, but at present it is unclear how much the Russian military budget has grown for the war in Ukraine. Moscow's military budget may have doubled.
** US Air Mobility Command chief General Mike Minihan stated that he foresees a US-China war in 2025. Minihan's words were reported for days on the internet. When asked for a an appreciation by Defense News of this time frame it was downplayed by Undersecretary of Defense for Policy, Colin Kahl.
Martin Broek 13/02/2023