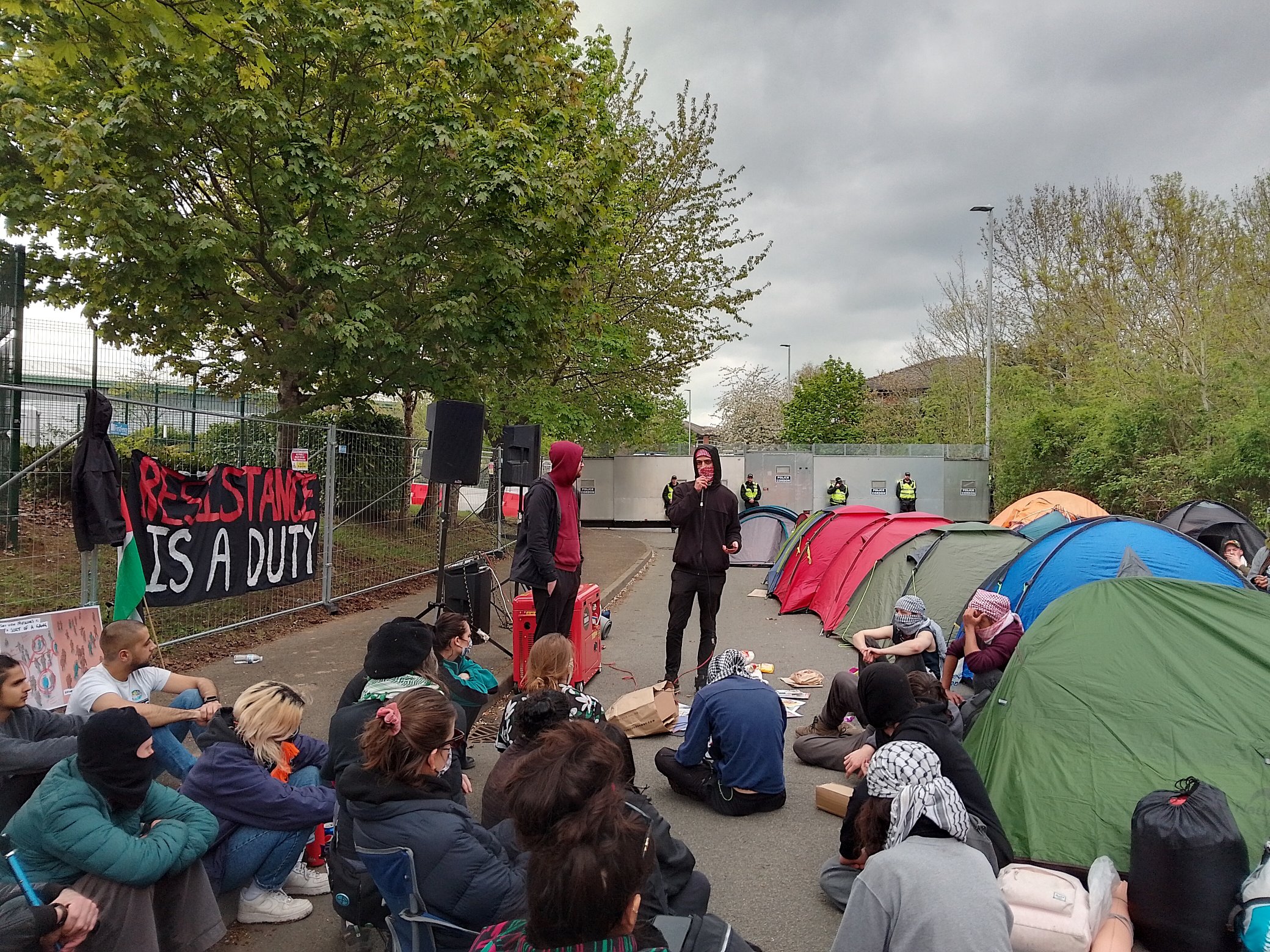 President of the European Commission Von der Leyen praised Israel as a vibrant democracy in the heart of the Middle East. "Your freedom is our freedom," she said in a video message on the occasion of 75 years of Israel. The negative reactions against the provocative words of the top EU civil servant were many. The Palestine Authority called part of her words an "anti-Palestinian racist trope."
(photo: #ShutElbitDown action camp Leicester)

Critisism is not new. Amnesty International as well as Human Rights Watch qualified Israeli policy towards Palestine as Apartheid. A word first used to describe the racial policy of the white South African regime. It got a wider adaption in the Apartheid Convention and now means the "systematic oppression and domination by one racial group over any other racial group or groups and committed with the intention of maintaining that regime." In 1977 the United Nations installed an mandatary arms embargo against South Africa. It was the start of an expanding global Boykot Apartheid movement until the fall of this horrible system.

Israeli Apartheid is however still supported with arms exports, imports and military cooperation. In the past few months reported military Israeli sales were many. Each of them gives its military industry a stronger position. Below are several recent examples from the European Union alone, so sales to Azerbaijan e.g. are not included. Not because they are unimportant. But because the focus here is on Europe's contribution to beef up Israeli armed forces. This is even more urgently because Israeli military firms, like Rafael, Elbit and Israel Aerospace Industries (IAI) are planning to seize opportunities to increase their exports to EU member states.


Denmark
Israeli military company Elbit Systems won a €108 million sale of truck-mounted howitzers and a $120 million contract for artillery rocket systems. Although the buyer was not named, it is widely believed to be Denmark, as Copenhagen is reported to be negotiating with Elbit for those systems.


Estonia
Estonia signed a contract with IAI for long-range loitering munitions (also known as suicide or killer drones). The deal marks "one of the most expensive defence procurement deals in Estonia's history." The necessary training is included in the €100+ million sale.


Finland
Helsinki is acquiring the David's Sling missile system valued €316 million. The thora/biblical named missile was developed by the Israel Missile Defense Organization and the US Missile Defense Agency, with Israel's Rafael Advanced Defense Systems serving as the prime contractor. The weapon showcases one of the attracting qualities of Israeli military industries: its connection to US military knowledge.


The Jeruzalem Post predicted on May 7, that Germany may approve purchase of the Israeli Arrow 3 the follwing week. The deal is of the enormous value of €3 billion (Israeli military sector's largest export contract ever). Visa versa Germany earlier sold Israel submarines for the same amount. This scandal ridden deal – even into the office of the Israeli PM – is full of controversy. But even the fact they may be nuclear armed, did not prevent this submarine deal. Nuclear non-proliferation is for some.

Greece:
Israeli defense company Aeronautics, owned by Rafael and Stolero Aeron, agreed to supply Greece with Orbiter 3 drones. The deal is part of the sale of Rafael's Spike missiles to the country in a package worth €370 million. (Spike missiles are used by several EU countries (Illustration see wiki map), the #Netherlands included).
Romania
Elbit inked four aircraft technology contracts with Romania to "upgrade helicopters, provide electronic warfare technology, deliver systems to support search and rescue operations, and supply avionics suites for training aircraft." Remarkably Bucharest is also a large exporter to Israel. In 2021 it licensed sales worth € 106 million, included €22 million for explosive devices and €14 million for military vehicles. Earlier this year Elbit announced a deal via its Romanian subsidiary, Elmet International, to supply $120 million worth of unmanned turrets, remote controlled weapon stations and mortars for the Piranha V combat vehicle.
Netherlands
On a separate text page the different aspects of Dutch military industrial cooperation with Israel are listed. Besides minimal arms and dual use exports and transit, it also involves imports of Israeli military knowledge, private industry cooperation with Bagira on military simulation and even the establishment of a Elbit Systems of America plant (a full daughter company of Elbit) near a Dutch military base for overhaul of F-16 and F-35 fighter jets for international customers.

Frontex
Israeli smart wall technology are used by Frontex, the EU Border and Coast Guard Agency. In 2021 French Airbus, with IAI as subcontractor, and Elbit won a joint Frontex framework contract for €50 million for maritime aerial surveillance services. Elbit also won another Frontex contract for the same amount and similar solutions. Closer links to Israeli Apartheid policies are hard to imagine in the field of military technology cooperation.

Israeli arms
The Israeli military and repression industry is supported by a annual flow of funds from the US. Its weapons are advanced, combat proves in encounters with neighbours and in Gaza and the West Bank. It is a strong sales argument. While Israel does not provide arms to Ukraine, its military industry is happily used as the arsenal to fill European gaps (just one of the many spill over effects of the war in Ukraine).

United Kingdom
Connections between UK and Israeli arms producers are strong. But a recent action camp in front of a Elbit factory in Leicester is more inspiring. It reminded to the international actions of Occupy, a protest against the wealth in the hands of the 1%. Here the protests are concerned the Israeli military repressive operations in Palestine. UK police however did forcefully end the protest. But seen the activities of the past years, new actions can be expected to pop up soon. They are badly needed, also in the EU. When the (non-elected) EU leadership gives the wrong example, citizens themselves have to demand for a policy following ethical guidelines, for military exports as well as for imports. Such a policy should also be applied to Israel. Supporting Apartheid is wrong.
Martin Broek May 2023