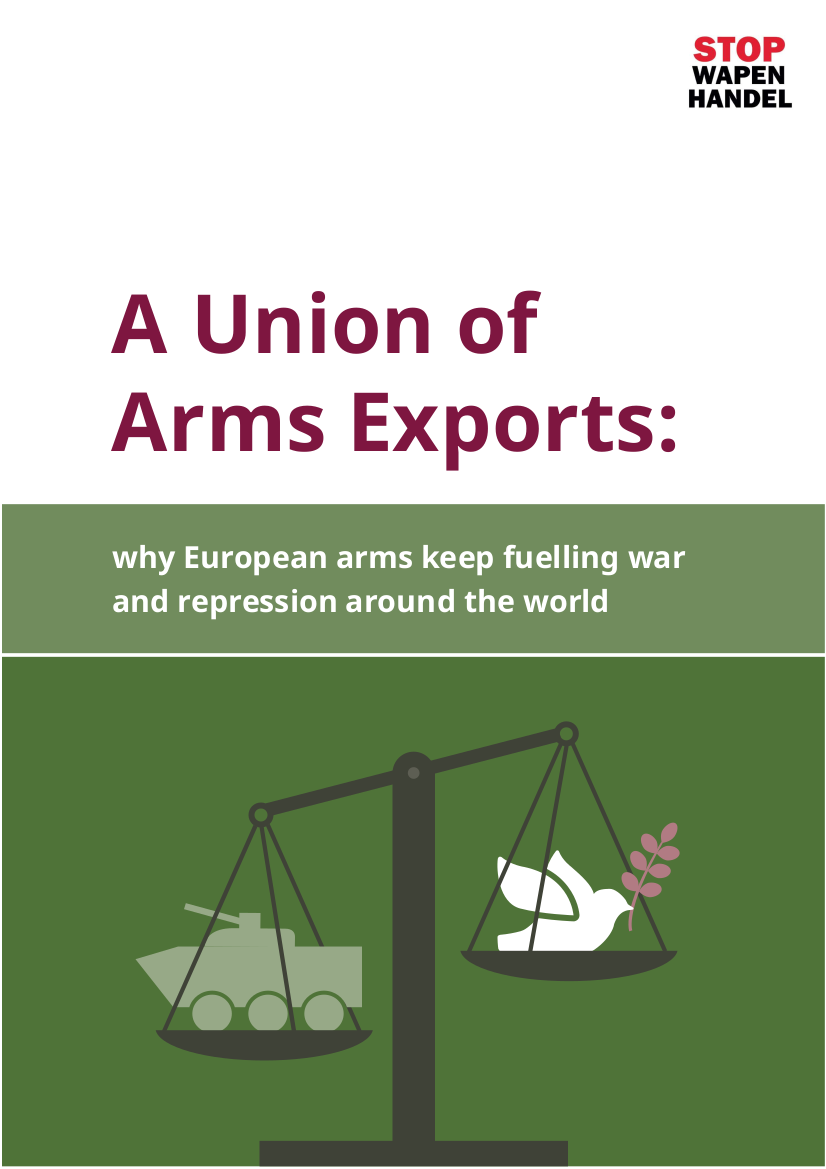 11 October 2021 – A restrictive arms export policy is systematically pushed aside for strategic and economic interests. Ending European arms exports to wars, conflict zones and human rights violators is therefore seriously hindered, concludes Stop Wapenhandel in the report 'A Union of Arms Exports: Why European arms keep fuelling war and repression around the world'.
The research shows that arms export rules are not applied strictly enough because the supplying countries believe they have an interest in continuing such arms exports. Claiming strategic interests – such as befriending allies, stopping refugees or striving for stability in countries around Europe – and/or economic interests – including employment and access to raw materials (oil) in other countries – arms exports are promoted and supported. Governments offer help by, for example, sending delegations to arms fairs, by applying rules flexibly and by taking arms companies on trade missions. The report contains contributions from several European countries that paint how these mechanisms work in various EU Member States and the United Kingdom.
EU countries are obliged to assess intended arms exports against a number of criteria, including with regard to human rights and involvement in armed conflicts of the destination country. Despite this, European weapons contribute to war and oppression around the world. The dictatorial regime of Saudi Arabia, also responsible for war crimes in Yemen, is still the main customer of the European arms industry. Egypt, the United Arab Emirates and Turkey are also among the largest buyers.
The European Union's pursuit of 'strategic autonomy', including a European Defence Fund of nearly €8 billion for the development of new weapons, also threatens to come down to promoting the global competitive position of the European arms industry.
StopWapenhandel concludes that controversial arms exports can only be stopped if the structural factors that promote arms exports are also addressed. "We have to focus on completely different European and national policies. Much more attention should be paid to human rights, disarmament treaties and a fair distribution of wealth and not to more and more militarization and a foreign policy aimed at self-interest. If we don't do this, new unwanted arms exports will continue to turn up," said Mark Akkerman, researcher at Stop Wapenhandel and author of the report 'A Union of Arms Exports'.
The report will be presented during the workshop 'Arms Trade and Military Business' (Sunday 17 October – 10.45am CEST) at the World Peace Congress in Barcelona.
Report 'A Union of Arms Exports' (pdf) with contributions from the European Network Against Arms Trade
Summary (pdf)