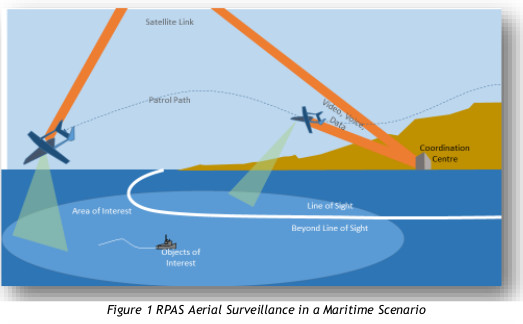 Last week border guard agency Frontex announced it had awarded new contracts for drone surveillance services in the Mediterranean to arms companies Airbus, with subcontractor Israeli Aerospace Industries (IAI), and Elbit. Frontex will pay up to €50 million under framework contracts to provide "maritime aerial surveillance services with Remotely Piloted Aircraft Systems for long endurance, providing of information via remote mission portal and sharing of compiled operational picture and/or raw data".
With these contracts Frontex takes new steps in its border security work, the expansion of its role in EU migration and border policies and in acquiring its own equipment instead of relying on that of EU member states. For refugees trying to cross the Mediterannean this can have more devastating consequences, especially in light of recent publications about Frontex' complicity in illegal pushbacks from Greece to Turkey and pull-backs to Libya. The involvement of Israeli companies IAI and Elbit, notorious for their work for the Israeli occupation of Palestine and the violence and repression against Palestinians, is another highly problematic aspect of the new contracts.
This contract follows an earlier contract for trial flights with drones, which was awarded to, again, IAI and Airbus, as well as Italian arms company Leonardo. From the last months of 2018 on they flew for several hundred hours from Greece and Italy, assisting in intercepting refugee boats.
The tender for the new contract was published already a year ago, specifiying the technical requirements and circumstances of deployment of the drones, including a minimum flught endurance of 20 hours. The requirements prompted Leonardo to start a legal procedure against Frontex, requesting the annulment of the tender, arguing that they prevented Leonardo's participation because they were "completely unnecessary, disproportionate, excessive and non-functional for the purposes of the service". In April the General Court dismissed Leonardo's application for interim measures. A recent €7.2 million contract, of which 50% is funded by the EU's Internal Security Fund, to supply 1800 hours of drone flights for Italian border authorities might soften the blow for the company.
The Frontex framework contract, an overarching contract under which specific orders can be placed, will initially run for two years, with two possible extensions of a year each. The initial financial ceiling for the total of specific orders is placed at €50 million, but if deemed necessary this can be renegiotated to increase to a maximum of €75 million.
For this Frontex "intends to launch 2 calls per year for 2000-3000 contracted hours in total on yearly bases". The companies are placed in order, which means that a specific order will first be offered to the first listed (Airbus, with IAI) and only go the the second (Elbit) when the first can't deliver. The drones will fly from Greece, Italy and/or Malta and must be able to provide both raw data and a "compiled operational picture" to Frontex and other entities, such as national border and coast guard agencies. The picture from the document shows the perceived setting:
The companies have to provide "a complete service providing all the necessary technical and human resources, including obtaining the applicable permissions and certificates." The last dermand is not an easy one, as the use of drones for border security has sometimes been held back by airspace regulations. Frontex itself had to cancel a planned trial with drones from Austrian firm Scotty Group in 2013 because the company failed to obtain a flight licence from the Greek government.
The large drones contract is a new step in the expansion of Frontex, which is bound to take a more leading and coordinating role in EU border security in the next years. Under last year's updated regulation the agency can for example give binding advice to member states to strengthen their border security measures, intervene in member states by decision of the Council and start operations in non-EU-countries. This goes accompanied by the formation of a standing border guard corps, which should start operating in January next year and grow to 10,000 officers in 2027, and a rapidly increasing budget. In July the Council decided that Frontex will get €5.1 billion under the new Multiannual Financial Framework, the EU budget for 2021-2027, almost three times as much as the budget for 2014-2020. Part of this budget (earlier reports talked about €2.2 billion) is earmarked for buying or leasing its own equipment, while member states are also supposed to buy equipment for partial use by Frontex with funding from the new Integrated Border Management Fund, which gets a budget of €5.5 billion for 2021-2027, as they have done in recent years with funding from the Internal Security Fund, its predecessor.
After some initial problems, such as difficulties with airspace regulations, there has been an increase in the use of drones for border security at the EU borders. During the last years, the European Maritime and Safety Agency (EMSA) has been providing drone surveillance services from Portugal to Frontex and member states. For this EMSA hired, amongst others, Portuegese firm CEIIA for €59 million. CEIIA subcontracted Elbit to use two Hermes 900 drones. At the beginning of this year one of these drones crashed in Crete, during a mission to monitor the maritime borders of Greece.
Meanwhile, Greece itself this year started leasing Heron drones from IAI for border security. The UK Ministry of Defence deployed its Watchkeeper drones, supplied by a joint venture of Thales and Elbit, over the Channel to detect migrant boats coming from France. In September the EU also donated 15 surveillance drones to Belarus, ignoring fears they could be used against pro-democracy demonstrators. The same trend in the increasing use of drones for border surveillance can be seen in the United States and Australia, which has also started the use of autonomous unmanned service vessels ('water drones') from OCIUS.
The switch from presence at sea to use of unmanned vehicles for detection and interception of refugee boats has been criticized by NGOs from the perspective of Search & Rescue. Regarding the new contract, Kiri Santer from Alarm Phone said that European actors "continue to be present but from the air, so they can be aware of different migrant boats leaving from the Libyan shores and feed that information to the Libyan coastguard." The use of military drones is also another step in the militarisation of borders and opens up new opportunities for drones-producing companies. According to Moshe Levy, Executive Vice President of IAI: "Flying in Europe's civilian airspace is an important progress for IAI and a solid proof for the RPAS's ability to fly in civilian routes. I believe this contract will open the door to more civilian markets."
A common feature in many of the drones used for border surveillance is their Israeli origins. The Hermes from Elbit and the Heron from IAI are market leaders. The companies promote these drones on the international market on the base of their extensive use by the Israel Defense Forces against the Palestinians, as they do with their whole portfolio of arms and security equipment. Several MEPs questioned the purchase of drones from Israel, but the European Commission and Frontex dismissed all the concerns, stating that all rules have been followed. According to Commissioner Johansson agencies like Frontex and EMSA "do not have a specific procedure to certify the origin of the materials procured", meaning that the human rights violations for which they are used aren't taken into concern.
As Stop the Wall and ECCP wrote in a briefing earlier this year: "EU funding for these companies inherently fuels Israel's capacity to sustain its war crimes and grave violations of human rights and international law. It makes the EU and all of us complicit in those violations.We have a responsibility to ensure that European public money is not spent on contracts with companies accused of war crimes. The EU must stop using taxpayers money to fund Israeli military companies."
Mark Akkerman 30/10/2020
Explosive stuff is the blog of Stop wapenhandel. Subscribe/unsubscribe.