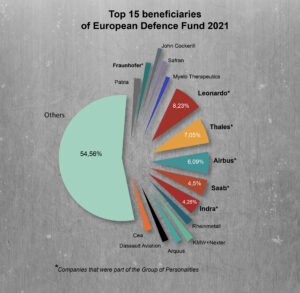 The public platform Open Security Data Europe has been updated to include recent funding information from the European Defence Fund, the EU weapons development fund, and Horizon Europe, the EU's flagship civilian research and innovation funding program. Open Security Data Europe gives a unique overview of which companies, research centres and public agencies receive EU funding for military and security projects. Furthermore, the platform allows users to search by topic, call, type of technologies or tags across all funds simultaneously, giving journalists and researchers a more complete means to access information.
The 2023 update of Open Security Data Europe shows that a limited number of large arms companies and countries particularly benefit from the European Defence Fund (EDF). Fifteen companies and research centres out of 690 beneficiaries account for 45% of the budget allocated for the EDF 2021 call. Four members of a 'Group of Personalities' charged in 2016 with advising the European Commission on setting up the fund – Leonardo, Airbus, Indra and Saab – each receive tens of millions of euros from it.

The four major European military powers, France, Italy, Spain and Germany, receive two-thirds of the EDF budget allocated in 2021 through their national companies. The funding per beneficiary for the EDF 2021 call only has been made public in June 2023, a clear delay in transparency.

Updates have also been made to include 2022-2027 funding from Horizon Europe. "The latest round of security research projects demonstrate the EU's long-standing enthusiasm for technological "solutions" to deep-rooted social problems" says Chris Jones, co-founder of OSDE and now Executive Director of Statewatch. "Those solutions are rooted in data-gathering, surveillance and the use of increasingly invasive technologies such as facial recognition, big data analysis and predictive analytics. At the same time, many of the recently funded projects are also focused on cybersecurity and privacy protection. While this is in some respects welcome, it begs the question of whether a surveillance society is any more desirable simply because data is held securely."

"Transparency on the implementation of the EU Defence Fund remains problematic, not only on funding but also on the ethical assessments of the projects," adds Laëtitia Sédou, project manager at the European Network Against Arms Trade. "Conclusions are not disclosed while they are based on consortia self-assessments and conducted by independent experts whose names are not public, leaving room for potential conflicts of interests."

Another concern relates to possible future exports of the technologies being funded. "Many of the largest beneficiaries of EDF funding were recently involved in controversial arms sales to authoritarian regimes or countries involved in -sometimes internal- armed conflicts," says Mark Akkerman, researcher at Stop Wapenhandel, an ENAAT member organisation. "For example, Leonardo supplied helicopters to Algeria, Egypt, Malaysia and Turkey. Other problematic destinations are Saudi Arabia and the UAE involved in hostilities in Yemen (Airbus, Saab), Indonesia (Thales, Airbus), India in a tense situation with Pakistan (Thales, Indra) and the Philippines (Saab), while Rheinmetall is closely cooperating with Israeli arms company Elbit, know for 'testing' its equipment on Palestinians."

With the EDF explicitly aimed at intensifying EU arms exports to non-EU-countries there is a significant risk of more European arms fuelling war, repression and human rights abuses all over the world. One example case is that of Lynred, the world's second-largest company in thermal imaging, owned by Thales and Safran. The company is the coordinator of the European Defence Fund project Heroic, funded in 2021 with €18 million to design the next generation of infrared sensors for defence applications. According to news reports, Lynred continued to deliver equipment to Russia after the 2014 embargo, and its thermal sensors have been found on the Ukrainian battlefield. In 2023, Lynred was reported to have also supplied infrared detectors to Moscow via Texel FCG Technology. Texel and its director, Marks Blats, were put on the US Treasury sanctions list this year.

At a time when the arms and security lobby is exerting a growing influence on European policies, it is all the more important to help journalists, researchers and civil society actors to monitor the billions of Euros that the EU is pouring into arms and security industries. The Open Security Data Europe data platform aims to make up for the EU's shortcomings in terms of transparency and easy access to data, and support journalists and civil society further work in this field.