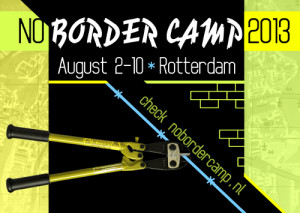 Especially since the attacks on the WTC and the Pentagon in September 2011, the security market has become of increasing importance to the military industry. For border security alone, business information provider Visiongain estimates the worth of the global market for 2013 will be over 19.3 billion dollars. Strategic Defence Intelligence, a similar company, stated that border security will be one of "the key drivers in the homeland security market."
Large border security orders are due in Australia (drones) and the United States (surveillance towers), but Europe also plays its part.
The EU border agency Frontex has been considering the use of drones to guard southern European borders for some time now. Ilkka Laitinen, executive director of Frontex, said drones could be used to expand the area of work, "to arrange the delivery and the production of additional surveillance data from an area that is beyond the border, typically we are talking about international borders or some further areas". Laitinen also praised the industry: "Our experience with the co-operation with industry is very positive – they have a lot of good ideas and they brought many new innovations."
Probably, the industry is even as happy with Frontex, that has been paying weapons and security equipment manufacturers to participate in demonstrations of equipment which national agencies attended as potential customers. Lockheed Martin, FAST Protect AG, L-3 Communications, FLIR Systems, SCOTTY Group Austria, Diamond Airborne Sensing and Inmarsat were paid 30,000 euros to show their drones in Greece in October 2011, Frontex recently revealed. Thirteen companies, including Thales and Israeli Aerospace Industries demonstrated technological solutions for maritime surveillance, against reimburstments ranging from 10,000 euros to 198,000 euros. Meanwhile, the Spanish Guardia Civil leads the research into the use of drones for the EU, after it cooperated with Thales in the Framework Program-research program WIMAAS, focusing on the use of drones for border control.
Following the drones demonstrations, Frontex has launched a tender to purchase "aerial border surveillance service – aircraft equipped with multi-intelligence sensors, radio communication means, ground station and personal equipment, in order to perform aerial surveillance at the external EU land border between Greece and Turkey." The surveillance has to take place between July and September this year. So, for now Frontex will merely buy the use of aircraft instead of actually purchasing the aircraft itselves.
The agency does, however, fund the purchase of two AW139 intermediate twin helicopters for the Italian border police. AW stands for AugustaWestland, a daughter company of Italian arms company Finmeccanica. The contract includes an option for an additional six helicopters.
Governments' focus on militarizing borders to keep refugees out stands in sharp contrast to worrisome messages by human rights organisations about the violations of rights of refugees. Amnesty International stated in its press release accompanying the publishing of its 'Annual Report 2013': "[T]he rights of millions of people who have escaped conflict and persecution, or migrated to seek work and a better life for themselves and their families, have been abused. Governments around the world are accused of showing more interest in protecting their national borders than the rights of their citizens or the rights of those seeking refugee or opportunities within those borders."
[MA, 23 July 2013]